Growing the Best Produce in Wyoming.
July 2019|Modern meets Traditional
We planted a seed and watched it grow into an idea beyond our imagination. This is how the Farm at Brush Creek came to light. To grow a variety of crops in the harsh mountain climate we created a haven in our 20,000 sq. ft. greenhouse. Holding true to our commitment to taking care of the land we shepherd, this temple of growth harbors a wide variety of crops curated to provide you an unparalleled dining experience. Using traditional methods of growing with a dash of modern technology, we are able to grow an average of 30 kinds of produce no matter the season.
Greenhouse Manager Serge Boon and his assistant Liz Helm work tirelessly to grow and maintain the stellar produce used in all of our seed-to-table cuisine. So much produce in fact, that enough is grown to supply every property with fresh produce year round.
With soil under their nails and trowel in hand, they plant each and every crop, mix soil to achieve the ideal balance of nutrients, and pick the fruits of their labor when they are ripe for harvest. Doing everything by hand allows us to maintain our values of sustainability and cut down on overall waste. A state-of-the-art hydroponics system supplies water to the over 100,000 pounds of produce yielded every year. This system also cuts down on the amount of water wasted by up to 80% compared to traditional farming methods.
Growing our produce on-site allows the team to collaborate closely with chefs around the property. Through this collaboration, stunning menus are authored using the produce grown in our greenhouse. This ensures that everything is grown with purpose and precision, regardless of season, and no produce goes unused. Any surplus produce is offered to local restaurants, while plant waste is subsequently composted, continuing the cycle of sustainability.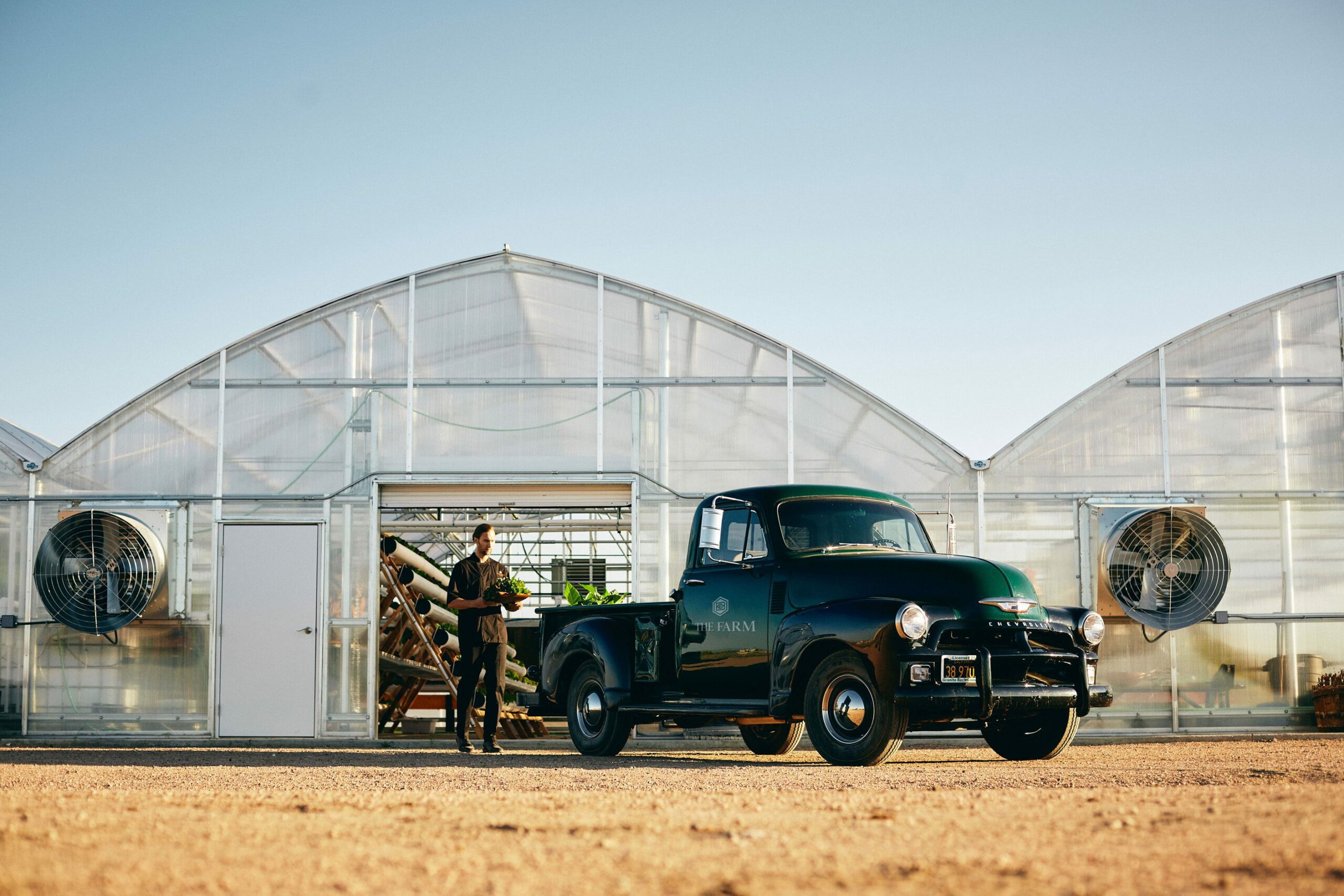 Alongside our creamery, bakery, brewery, and distillery, the greenhouse is now open for you to visit and tour. We pride ourselves on giving our guests a plethora of opportunities to learn about how we do things on The Ranch. Witness the amazing steps taken to get fresh produce from a seed to your dining table. We will show you how store bought produce pales in comparison to our fresh organic fruits and vegetables. Growing exceptional produce in a place you wouldn't expect only heightens the experience of The Farm. Just a piece of the incredible culinary tapestry we have woven for our guests, the greenhouse plays an intricate role.
To see for yourself, visit The Greenhouse.