Take The Adventure Home At Our Luxury Mercantile
Now introducing the Brush Creek Mercantile at The Farm. Guests at Brush Creek Ranch Lodge & Spa, Magee Homestead and French Creek Sportsmen's Club can now enjoy an elevated shopping experience at The Farm.
Guests have the opportunity to explore items from technical outerwear to handcrafted stoneware. Curated with you in mind, Brush Creek Mercantile offers a selection of clothing, housewares, gifts and more from some of the world's finest outfitters and skilled craftsman.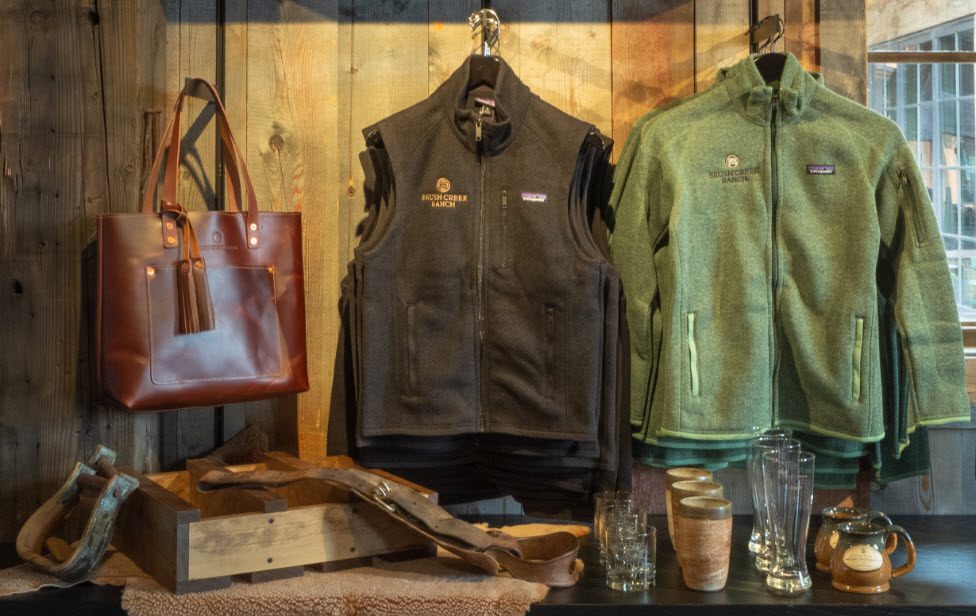 Our collection of ranch tested apparel is hand-picked for its quality and will stand up to hard use. Field coats, waterproof jackets, wool vests, and ultra-lightweight fishing shirts are just some of the items that will enhance your ranch experience and provide a memento long after you've left for the next adventure. Whether you're fly-fishing for trout in our Orvis certified private waters, honing your skills on the gun range, or riding through the western terrain, you'll be prepared with a garment from Brush Creek Mercantile.
For the lovers of spirits and brews alike, we present high end glass and barware to make every drinking occasion a spectacle of its own. Pour your favorite spirits or beer into our gorgeous etched and customized glasses.
Take to the trails with durable mugs and tumblers. Laser etched with the Brush Creek Ranch insignia, our outdoor drinkware is built for the elements and is easily stowed in your day pack. Keep your favorite coffee piping hot for a long day in the great outdoors or enjoy a fireside nightcap.
With all these choices, the adventure doesn't have to end when you leave the Ranch. Take the experience home to share with family and friends. We look forward to enhancing your Ranch experience at the Brush Creek Ranch Mercantile at The Farm.